Tons of things go missing in FarmVille every year. Things that could mean a lot to someone, things that have great value, things that should - by all means - be found and treasured. This peeves Rusty. He wants to set up a search group and go all over FarmVille looking for these lost treasures and needs your help to do so.
Let's combine our efforts and support Rusty's endeavor to reunite these lost treasures with their rightful owners.
If you are level 15 or higher, the Good Toy Hunting pop-up will appear. Click on the Start Building button to begin the feature. You can also buy the completed Seekers Guild Hall using Farm Bucks.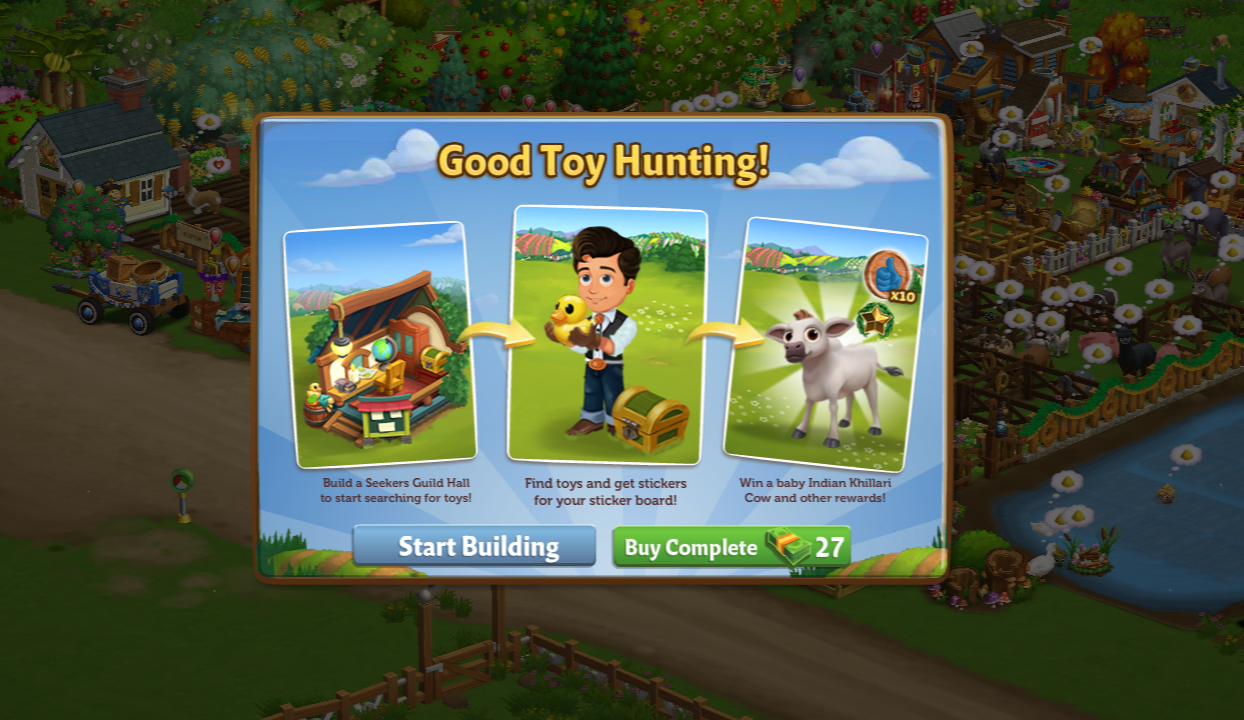 To start building the Seekers Guild Hall, you must first collect all the needed materials or finish some quests.
Ask your friends for help in building the Guild Hall or hire some Builders using your Farm Bucks.
The finished Seekers Guild Hall, which you can place inside your Farm, will look like this:
In the Seekers Guild Hall, you will be completing tasks to earn Search Permits.
Click on the I see! button to start doing tasks. You'll receive some Search Permits for free on your first search.
The items that you're requested to find are shown in the bottom part of the feature window.
Look for the items in certain Search Locations.
Each location will require Search Permits to start a search. A search party of up to three (3) members will be formed before starting a search. The amount of time a search will take is also shown on this window.
You have the option to complete a search early by spending Farm Bucks.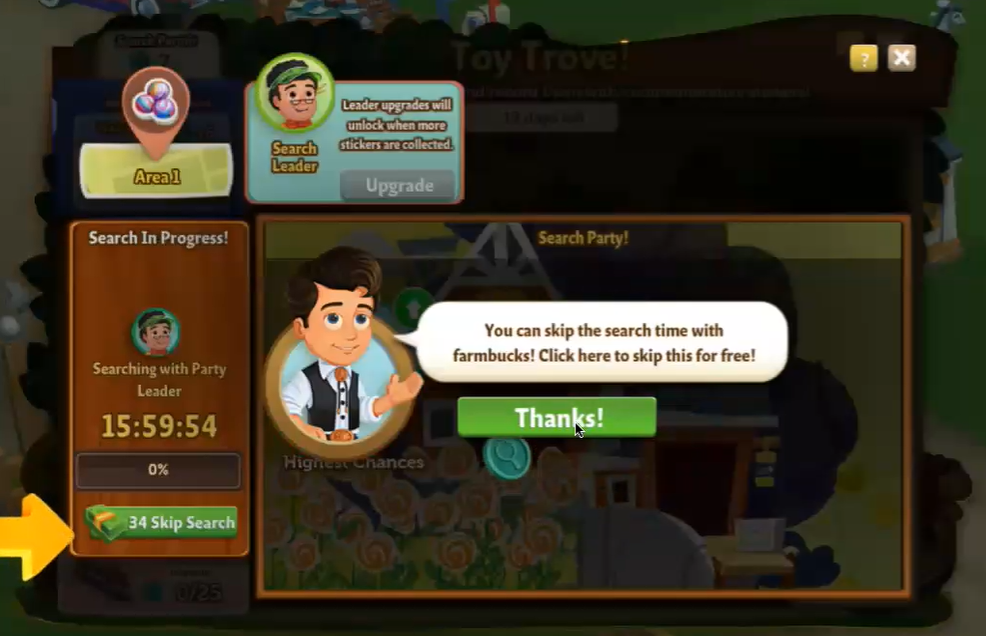 Sticker Book
Every time you find a new item, it will be recorded as a sticker which will be added to the Sticker Book. There will be two (2) sets of four (4) stickers each every week. Successfully completing the set before the week for that set ends will unlock the quests for next week early, as well as a bonus reward.
Unable to finish the set for the week will automatically continue the story on the succeeding week with new sticker sets to collect.
Get rewards for collecting all stickers each week!
Unlock new locations upon completing a search.
There will also be rare toys that will be harder to find.
There will be time-limited tasks daily which are called Urgent Quests. These tasks will yield more Search Permits upon completion.
You'll also get rewards upon reaching a certain amount of Search Permits that you earned, as well as for stickers you've collected.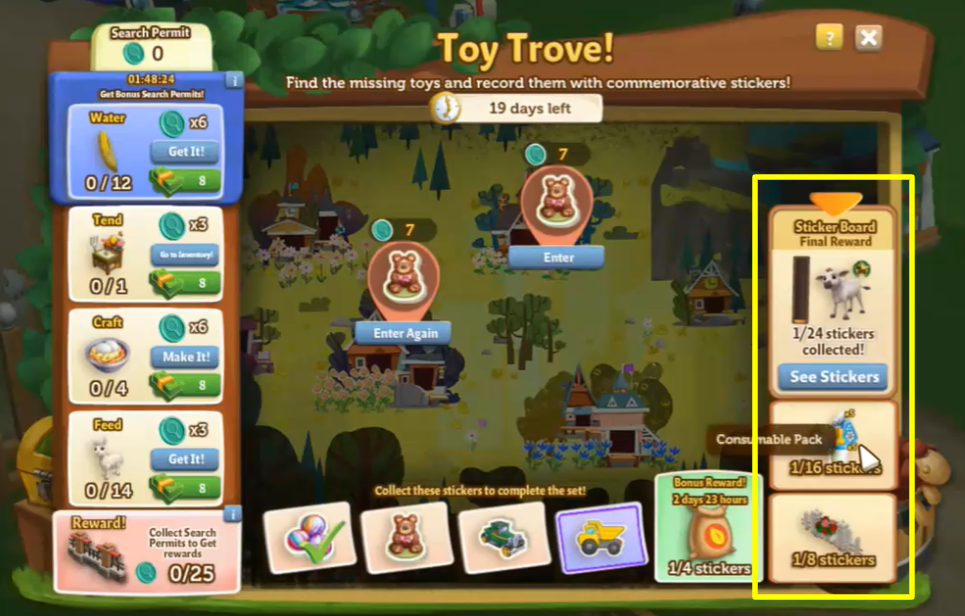 Duplicate Stickers
There will be chances of getting a duplicate sticker after a search. You can use these duplicates to unlock new stickers.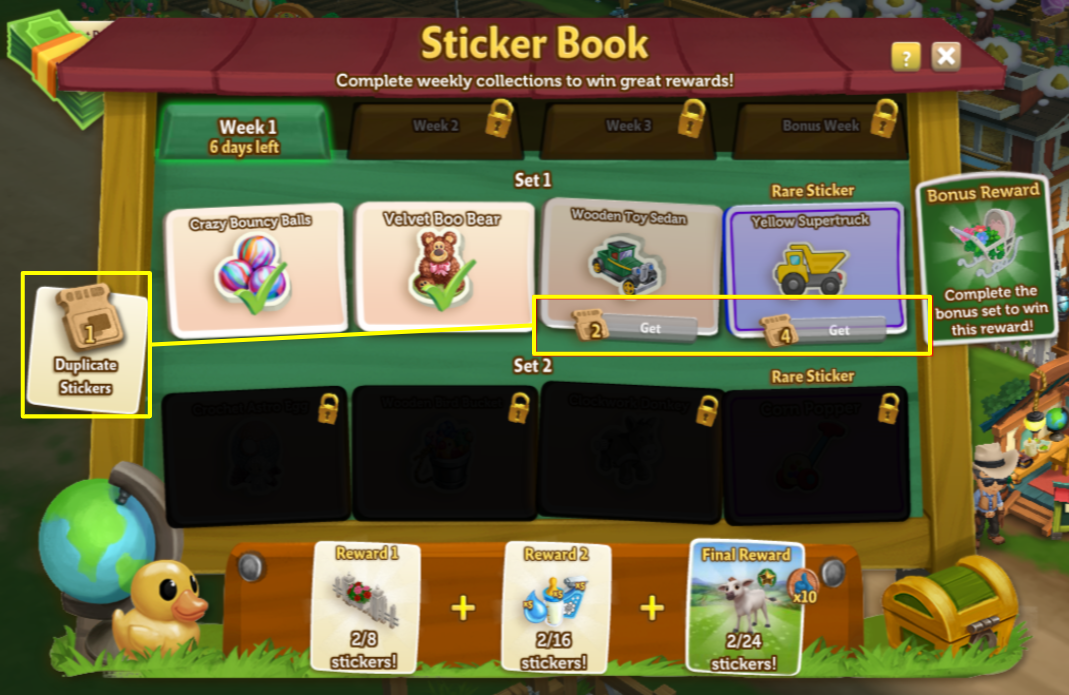 Boosts
Whenever a search party is formed, you can ask up to two (2) of your neighbors to join and each of them can give you a boost on your search such as reducing the time and receiving an extra sticker after the search. There's also the option to hire another party member using Farm Bucks.
You can also upgrade your search party leader by completing tasks for permanent search benefits.
Have fun finding toys and collecting stickers!