All animals purchased in the General Store start out as babies—it's up to you to raise them to adulthood! Baby animals don't provide Resources to sell in the Market or use in the Kitchen, so the sooner you raise the little guys into adults, the sooner you can start making money!
Once you purchase an animal, place it on your farm. Because it's a growing baby, your new animal will be hungry as soon as you place it: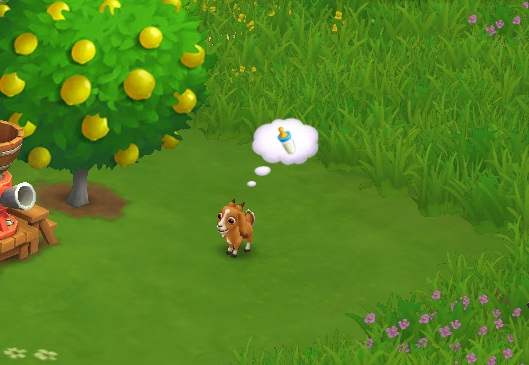 All baby animals require a certain number of Milk Bottles before they reach adulthood. Just like their adult counterparts, baby animals will get hungry for Milk Bottles at different intervals. Hover your mouse over a baby animal to see how long it will be until your Baby needs another bottle:
You can get Baby Bottles from your friends or you can purchase them with Farm Bucks. If you run out of bottles, click the "Ask" button on the following pop-up to request some from your Neighbors.
Different animals require different numbers of Milk Bottles before they become adults. Typically, larger animals require more Milk Bottles than smaller animals.
Once your Baby has had all the Milk Bottles it needs to grow up, it will transform into its permanent adult state. Once you have an adult animal, you can start giving it feed immediately, and it will give you valuable Resources in return!