Artsy Aubrey and Peppy Pedro arrived together at the Farm to organize a unique fashion festival with various contests. They will be conducting creation workshops to deck up all the animals at the Farm. Let's see who succeeds and make their animal stand out!
The feature will unlock at Level 12. You'll receive a pop-up inviting you to join the Farm Fashion Show event when the pop-up invite appears on your screen. You may need to force close the game or reboot your device to see the latest update.
Be part of the festival by tapping the Fashion Hub.
The Farm Fashion Show event is made up of 2 stages. The 1st stage will run from August 24 until August 30, 2022. The 2nd stage will start on August 30 and will end on September 04, 2022. You will have 12 days to complete the 2 stages and win rewards!
You can win the permanent Farm Hand Ruby Rio when you get Gold in either Stage 1 or Stage 2. Win Gold in both stages to get the permanent Farm Hand Ritzy Rio!
Farm Fashion Show Leaderboard
For the Farm Fashion Show event, you will be crafting orders to earn Poise Points.
Move up the ranks in the Leaderboard by completing as many orders as you can to earn more points.
Earn additional Poise Points by:
Completing event Quests.
Hiring temporary Farm Hands Artsy Aubrey, Peppy Pedro and Stunning Skylar.
Win great rewards when you reach the top three ranks in the Leaderboard.
Bronze Trophy: 1 Silver Stamp, 1 Barn Nail, and 5 Golden Gloves.
Silver Trophy: 2 Gold Stamps, 2 Padlocks, 10 Keys, and Eggstatic Pin.
Farm Fashion Show Bow Boosts
You can earn more Poise Points by using Bow Boosts! Once activated, it will last for 1 hour, and you can only select one boost at a time.
Silver Bow Boost helps you win 50% more points.
Gold Bow Boost helps you win 100% more points.
Farm Fashion Show Event Pass
With the Farm Fashion Show Event Pass, you will double your rewards when you win a Silver or Bronze Trophy in either stages.
You can also get a temporary Farm Hand, Sanguine Stella, for 21 days when you win a Gold Trophy in both stages.
Temporary Place of Interest: Tie-Dye Den
The Tie-Dye Den is a temporary area where you can get event items needed in each recipe.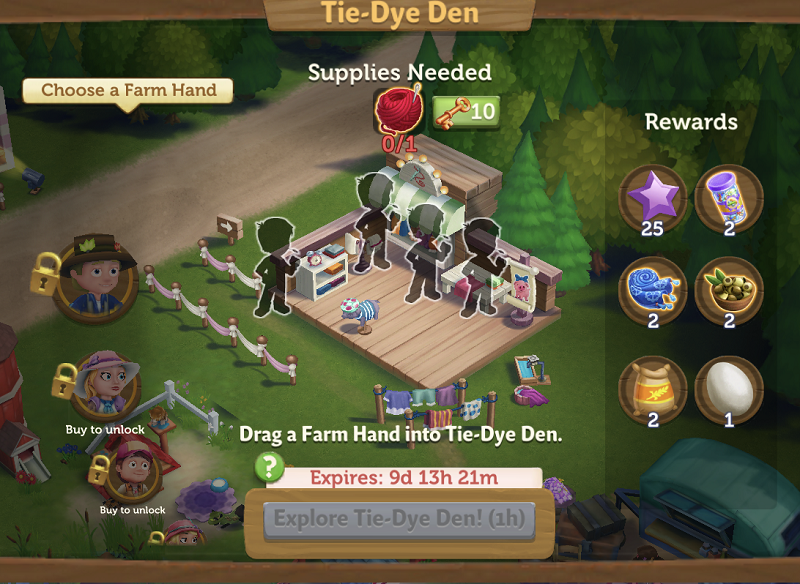 Temporary Farm Hands: Artsy Aubrey, Peppy Pedro and Stunning Skylar
You can purchase Artsy Aubrey and/or Peppy Pedro and/or Stunning Skylar as Farm Hands to help you complete the Farm Fashion Show event. You'll have a higher chance of finding rare event items by using these Farm Hands.
Note: They are temporary Farm Hands, and will only stay on your Farm for the whole duration of the event. Get them as early as possible to maximize the benefits they'll give you.
New Items and where to get them:
BNI 1
Sprinkles - Tie-Dye Den, Glade, Prized Cow & Prized Chicken
BNI 2
Patterned Fabric - Tie-Dye Den, Mine, Prized Sheep, Prized Pig & Prized Reindeer
BNI 3
Peplum Olives - Tie-Dye Den, Pond, Pier, Mill, Prized Horse & Prized Goat
Leaderboard Rankings and Rewards: