Visit the Harvest Bazaar in town this Summer! Grow crops to help Marie fulfill the numerous orders for the Bazaar. Harvest Prize Crops to earn Coins and other rewards. Compete on the leaderboard to become "Top Farmer." Let the planting begin!
It is a special limited time feature that becomes available when you reach Level 22.
You can access the Harvest Bazaar from the events area on the left side of the Farm.
While the Bazaar is ongoing, fulfill orders to get
Bazaar Tokens
and Coins. You can also use Gems to complete the orders.
Compete with other Farmers in the leaderboard by collecting Bazaar Tokens to become one of the Top Farmers and win amazing prizes!

Tap the Prize Chest beside your profile to show all the possible rewards you can win.
Be part of the Top 3 in both stages to win the Leaderboard Streak reward!
Tap the
Market
button to return to the Harvest Bazaar main screen.
Use
Instagrow
to instantly grow crops and harvest them.
Using Instagrow on a crop gives a chance of sprouting a Prized Crop that gives additional Bazaar Tokens.
When you have enough Favors, redeem them for amazing deals in the Merchant by tapping the Deal Scout button in the lower right corner of the Harvest Bazaar leaderboard screen.
Note:
Deal Scout is a special merchant who is visiting for a limited time that you can only access inside the Harvest Bazaar.
Tap the Enter button to get great deals or request for offers on any type of goods!


You can use the Favors you have earned to ask the Deal Scout for exclusive deals!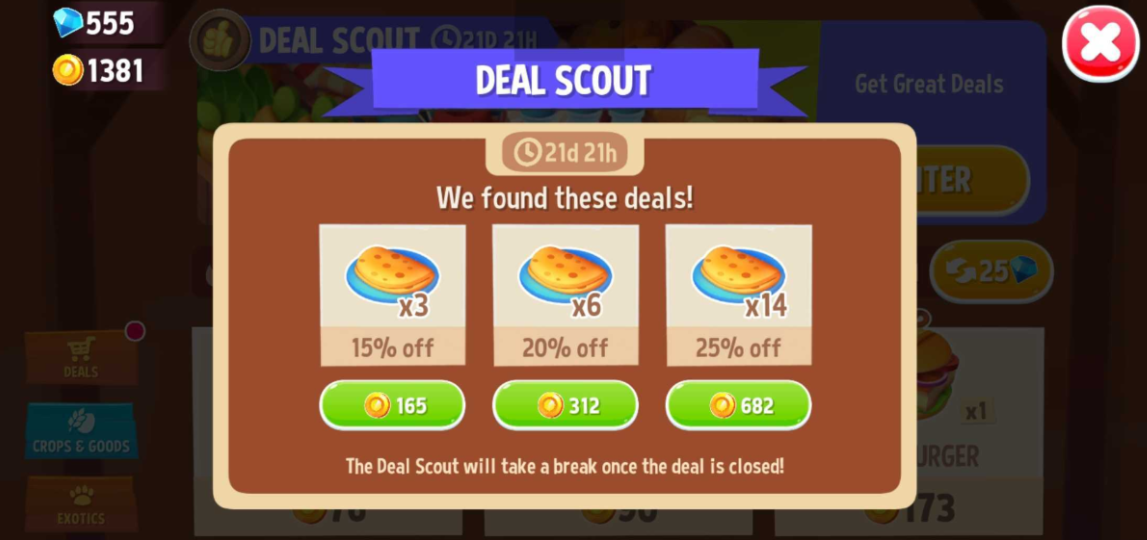 Bazaar Token Boost:
Get your first Bazaar Boost for free! You can use Gems and Coins to activate a limited-time Boost that will give you bonus Bazaar Tokens.
The price of Boosts increases with each Boost upgrade.
Note
: Tap the
Question Mark
(
?
) button for more tips and information about this cool feature!